I hope you like Saturday's Doctor Who episode. I was lucky enough to have been present at the filming of both. In 'Human Nature', myself and Caroline stood at the bottom of John Smith's bed when he woke up, and I'll tell you after the episode what I was watching being filmed for 'The Family of Blood'.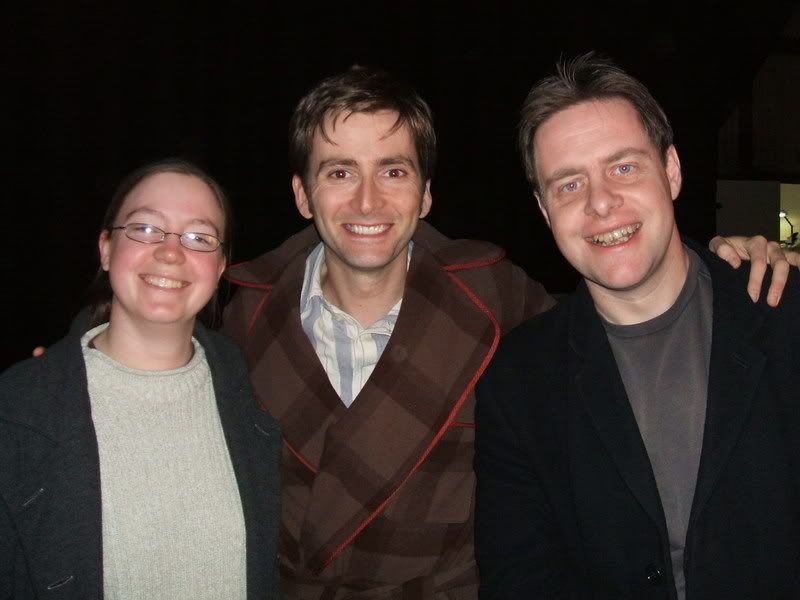 I'm delighted by what the BBC website team have done with Smith's journal, animating it and subtly adding to Kellyanne Walker's gorgeous original art.

Fan Owen Rickard created this excellent animation, showing the originals of the pictures of past Doctors in said journal:


Doctor Animation
It was great to see Script Editor Lindsay Alford being typically intellectual, and then me being very fat (told you) on Doctor Who Confidential. That team did great things with the piano storyboard sequence especially. I also loved Russell's description of one of the things it's dangerous to do in Doctor Who: have a party. Monsters will always come crashing in. I have an old fanzine article about What Not To Do In Doctor Who somewhere, I really must post it.

We're going to wander off into a forest over the weekend, but we'll have computer and mobile with us, so I'm hoping to hear reactions and then be able to go and lie down in a glade. This really has been the most lovely week for me, and the online reaction to the first episode continues to stun me, so thank you all very much.

There's a few important things to announce also:

Alex Fitch's radio show I'm Ready For My Close-Up is broadcast every Thursday night on Resonance FM, 104.4FM in the London area. Tonight, he includes two interviews with me, one of which is the career overview one with Graham Sleight that took place at the British Science Fiction Association meeting a few months back, the other being specifically about the Doctor Who episodes. If you're not in the London area, or you miss it, the episode will be available online:


Close-Up
On Friday, June 1st, there's an interview with me, covering the Doctor Who episodes and more besides, in the Oxfordshire Limited Edition supplement of the Oxford Times, conducted by journalist Gill Oliver.
On that day also, the new issue of Fractal Matter online magazine (see the link on the right) will feature a review of the full run of Wisdom and a roundtable discussion about 'Human Nature'.
I've been added to the bill of the Gloucester Doctor Who convention The Oncoming Storm, which takes place on June 9th:


The Oncoming Storm
At which I'll be taking the stage with the very talented Thomas Sangster. Do pop along.

Anyhow, I look forward to hearing from you, and can't wait to see how you like the new episode. Until then, Cheerio.
---