Pádraig Ó Méalóid was kind enough to send me, along with his excellent new fanzine,
Puny Earthling
, a copy of issue 3686 of
Commando
comic, published in 2004, which, as it turns out, held a very personal interest for me.
Commando
, for those of you not familiar with the medium, is a comic digest, in 65 page booklet format, still available in newsagents in Britain, with
two
issues being released
every week!
(Proof again that comics are only 'dying' if you don't count all those comics that are doing really well.) There's one story per issue in these little graphic novels, this form being where Battler Britton, now ressurected so gorgeously by Garth Ennis -
http://dccomics.com/comics/?cm=6097
comes from. (Although I'm still waiting for him to take a 'calculated risk', as he always did when I read him as a kid.) This particular issue is called 'Return to Action!' And, well, here's the first panel that caught Pádraig's eye...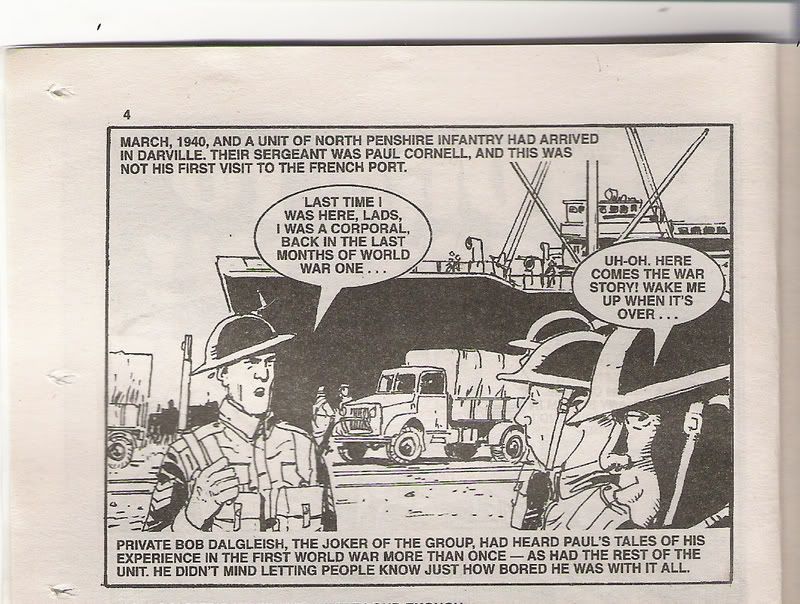 Now, that could just be a coincidence, but added to that, three panels later...
My old writing partner Martin Day pops up, 'young and inexperienced'! But what really makes one certain all this is no accident is the name of the little French village Cornell and Day end up defending...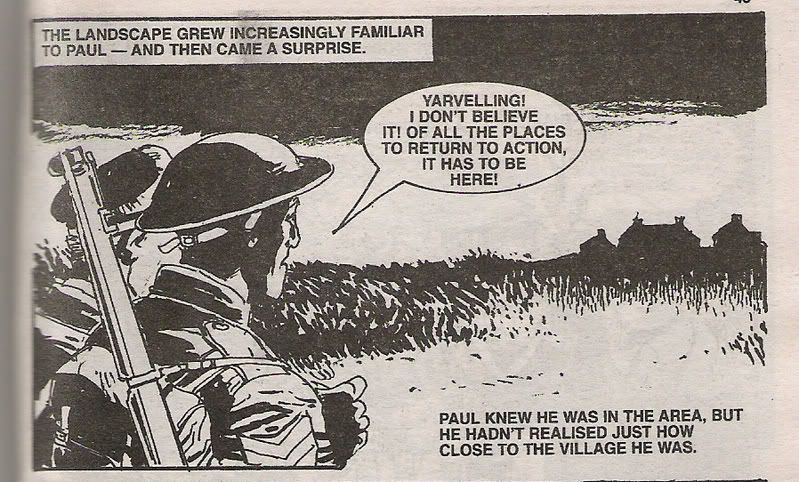 'Yarvelling' being the name of the creator of the Daleks in the 1960s
TV Century 21
comic strip devoted to them.
This makes me wonder if the port of Darville, also mentioned, is a reference to former
Doctor Who New Adventures
books editor Peter Darvill-Evans, and if 'Penshire' is a reference to my ex of those days, Penny List.
Commando
booklets are published without credits, so I don't know who wrote this, and I'd love to find out. The art reminds me at some moments of the great John Ridgway, a former collaborator of mine, but I don't think it's all him, or that he'd remember me in such detail. If anyone out there knows any more about this, please let me know.
And yes, the Germans do still call the British 'accursed Englanders', and yell 'himmel!' when they're being shot at. By, erm... me.
---