We were going to go to the Chula, the restaurant that Steven Moffat had immortalised as the name of an alien race in 'The Empty Child' (and his shorthand for the original 'other four' Who writers who met there). But the restaurant never returned Moffat's calls. So, suspiciously, we ended up meeting at another restaurant, the Anarkali, on the same street, much closer to Moffat's house. Toby Whithouse pulled out because he'd got a gig in his new venture of being a stand-up comic. Gary Russell rushed over having finished his working day in Cardiff.

We were there to do our part for the three winners of an eBay charity auction. This was in aid of comics writer Mark Millar's quest to find a cure for the condition he suffers from: Crohn's Disease. The three winners had bid over $2000 dollars for an evening of me and Moffat's company, plus whoever else we could bring along from the writing team of the new Doctor Who. So no pressure to perform. And I think we were all a little apprehensive about the company. Being able to pay a large sum is not in itself a guarantee of poise and grace. But we lucked out. Will York, John O'Connor and his wife Vanessa Spady turned out to be amiable, generous, charming folk, who flew in that day, and intended to fly back a couple of days later. Will is the loquacious one, keen to thank everyone and wanting to listen to as many Who-related anecdotes as possible. John is quieter, and Vanessa doesn't know much about Doctor Who, but is here to enjoy herself.

Rob Shearman remains trim and fit, a shock to those of us who knew him as, well, shall we say portly? It gives added edge to his wit, which is based on him being twinkly-eyed and lovely until he says something that suggests the fluffy kittens didn't necessarily make it home unscathed. He's also vastly self-deprecating, entirely, I suspect, so that we all keep telling him how good he is. Tom MacRae has walked up the street past the Chula, and points over his shoulder. 'They are open. They've got a man dressed as a Mexican standing outside, to advertise how hot their food is. For an Indian restaurant.' Tom has got older. He now looks thirteen rather than twelve. He remains wide eyed and boggled, in rather a sly way. 'That's the third or fourth new generation of Who writers I've seen,' says Terrance Dicks. (He's not on the new show, he's there because he's our guru, we all love him, and our guests are a little in awe of him.) 'How can they be so young?!' Stephen Greenhorn isn't steeped in fan culture like the rest of us. He's quietly your bigtime TV writer who just had a good Doctor Who script in him. And, erm, Wide Sargasso Sea, produced by my old script editor Elwen Rowlands, which I tell him was magnificent, several times, over and over, I think. He's Scottish and seems kind of a hard man, until you realise he's nervous about talking to Terrance Dicks. Gary Russell arrives with copies of his new Making Of book for everyone. He doesn't drink, so he's come to talk plainly and directly and professionally while the rest of us are falling about. There's something absolutely reassuring about Gary. If your ship was in danger of sinking, you'd want him to be in charge of the lifeboats. (Though I'm sure he's hoping not to have to preside over any evacuations this evening.) He's incapable of bearing a grudge, and is quietly the most ethical person you'll ever meet. He's here tonight because a friend, Tom Street who posts on Outpost Gallifrey as Fitz Kreiner, suffers from Crohn's.

I remember fragments. I know for sure that no secrets were given away, because we put Gary in charge of yelling 'shut up shut up shut up' if ever we strayed in that direction. And our guests have confirmed that they heard nothing spoilery, and would have put their fingers in their ears if we started going in that direction. (And hello, Production Office, I hope you're enjoying the blog so far.)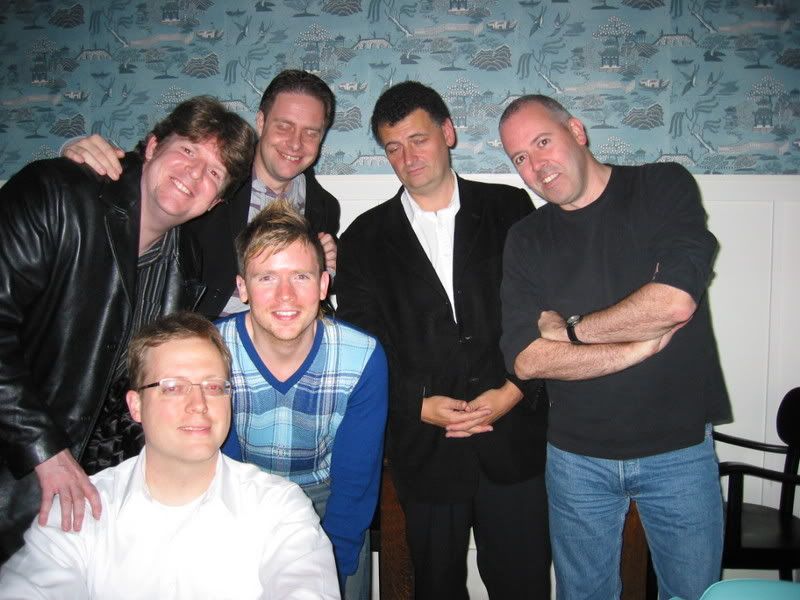 John, Will, Tom, me, Steven and Stephen. It's been a long night.



'So, back in the day, there was this owner of a big business who started a campaign to keep Clause 28, that bit of vacuous legislation which "bans the promotion of homosexuality in schools", and he set up a freepost address for people to write in and support him. So Russell started sending huge items to him at this address, fridges, scrap metal Volkswagen Beetles, and he was paying the postage on all of them…'





'Trust me, this will look very flattering online.'



'I never understood this business about eighteen drafts. Two drafts was good enough back in my day.'

'We tend to call Mark Gatiss the best actor of his generation, but only when he can't hear.'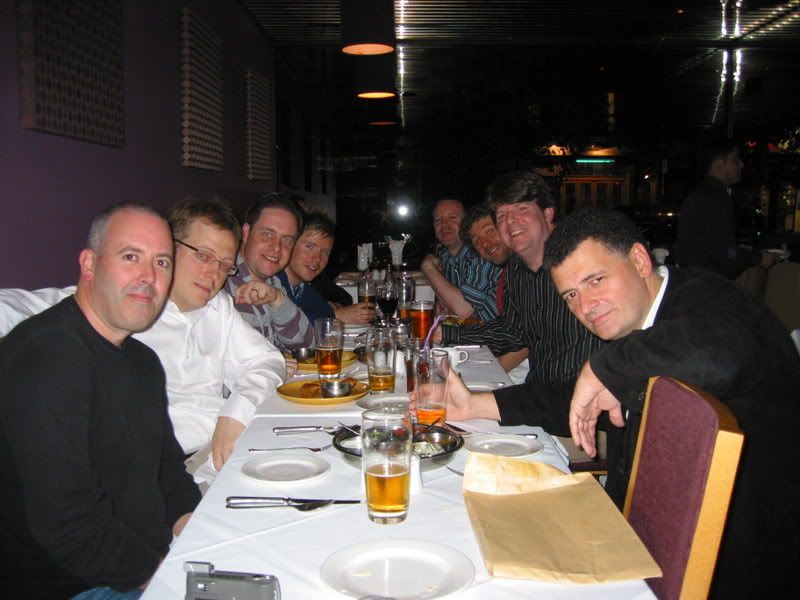 See Gary Russell, right at the back? He's sober.



'Fanny Craddock. How to explain her to Americans? Where to start?'



Who writers didn't have hair like that in Terrance's day.

'Martin Jarvis flies me over to L.A. to record my plays for Radio 4, because obviously sound is better there.'


'So what exactly happened to those fluffy kittens, Rob?'
(All photos courtesy of Vanessa.)



We swap seats between courses, so that our guests get to meet everybody and the waiters get confused. Much lager, Moffat's choice of fine wines, and then champagne, is taken.

What can one say about Moffat? He's on form tonight, in the middle of recording Jekyll, his modern take on the Robert Louis Stevenson. Besuited and poised as always, like he's just come back from the Bond audition, but with an undercurrent of bemused and haven't they picked the wrong guy? We go back a long way. I probably owe my TV career to a mixture of him and Russell. I'm Godfather to his oldest, he was best man at my wedding. He won my Hugo Award. And tonight he wants us all to go on to a strip club. Or that's what he says he wants. 'I'm for that,' says Vanessa, making his night. Terrance's eyes widen in horror and he puts his hand up for a taxi. 'Bye,' says Gary, hugging everyone. But the rest of us wander off in a drunken mass down the street.

'I don't,' say I, repeating a phrase I used to Moffat on the eve of my stag night, 'want to see any strange breasts.'

'Well, we could go to the strip club, which is very nearby, or we could walk all the way to this media club in Chiswick, which is, oh, miles… But if that's how Cornell feels… I tried, I really did. Vanessa, I'm so sorry.'

That's what he wanted.

I wish I could tell you what the interior of this club looked like. Not because it's secret. But because I have no idea. I'm told we went to a similar place on said stag night. Perhaps there's some sort of device on the door of these places that erases my memory of what happens inside? Yes, that must be it. I think I hug our American friends goodbye. For perhaps a length of time that they might refer to as 'inappropriate'.

Me and Moffat stay up late with wine at his place, watching Jekyll footage. 'That's wonderful,' I say. 'And I'm glad it's you doing it. You really deserve everything you've achieved. Even the Hugo.'

I think I'm still drunk when I get to the Anime Village at the ExCel centre the next morning.

We who were once the Chula are now the Anarkali, which you can reasonably expect to crop up as a new set of Doctor Who monsters soon. It would save time if someone just opened a restaurant called Dalek. I get home feeling wonderful about being part of this show, and glad that when I'm drunk I tell proud and happy anecdotes about the people I work with. 'I felt,' said Terrance afterwards, quoting from his favourite author, Patrick O'Brian, 'thoroughly caressed'. And so did I.

(The non-combatants' version of this night out will be appearing soon at Fractal Matter magazine. Terms and conditions definitely apply.)

Announcements:

ITEM! My Science Fiction Life is a new BBC web project which an old mucker of mine, Ann Kelly, is working on. It opens officially on Thursday, but you can pop along now and register, and answer their questionnaires about some classic SF books, movies and TV shows. It looks like it's going to be quite exciting, dealing as it does with SF as a body of work, not as different media that are at odds with each other. Go seek at:
http://www.bbc.co.uk/mysciencefictionlife/

ITEM! Mags Halliday informs me of the creation of something I very much welcome, an edited and quality controlled Doctor Who fan fiction site. Back in the day, a lot of us who ended up working in various aspects of Doctor Who wrote fan fiction to the demands of fanzine editors, who would reject it if it wasn't good enough and suggest edits. These days, much fan fiction on the web isn't edited at all, so writers aren't challenged and they don't get better. You can find out more on Mags' blog, on the right, but step one is naming the site, a poll about which is here:
http://lordshiva.livejournal.com/195275.html
I can't decide between old school Lost Luggage and modern love Resonating Concrete.

ITEM! Faringdon Arts Festival 2007 has a blog.
http://faf07.blogspot.com/2006/10/taking-part.html
The dates this time are 6th-8th July, 2007. I'm not on the Committee, but I'm aiming to offer them a couple of literary and/or fan-friendly events as a free agent. And the Dalek will definitely be back, bringing a couple of new friends with him.

ITEM! Caroline's country/rock/folk/bit of Pink Floyd band The Magpies played their second professional gig the other night to a packed house, and did very well indeed. I particularly liked the Crosby, Stills and Nash numbers. If anyone in the Oxfordshire/Wiltshire/Berkshire area would like to hire a melodic band with a bit of oomph, they're now available for gigs.
Until next time, Cheerio. And ow. Still a bit hungover.
---